Consolidation and group reporting
Being the partner of your commitments
At the heart of accounting and financial expertise
Requirements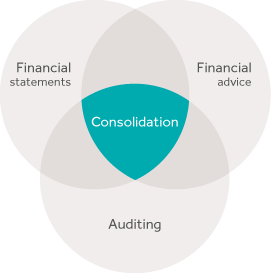 Within a group, drawing up consolidated accounts requires harmonisation of accounting rules and methods and simultaneous mastery of several processes:
Closing of corporate accounts according to a coordinated schedule while optimising closing deadlines
Feedback and homogenisation of accounting data and figures
Consolidation of these data using a specific standard
Our services
Our interventions range from expert technical appraisal to complete outsourcing of your consolidation process, depending on your internal organisation and your objectives.
Within your company, we assist your teams , adapting to their needs in terms of expertise and volume of work
If you outsource, we take charge of the whole process from retrieval of historical information through to the final financial statements
We provide you with advice for specific operations such as optimisation of your organisation, interpretation of standards or expansion of your area of operations
From group reporting to consolidated accounts
Group Reporting
Switching from aggregate reporting of corporate data to group reporting of consolidated data is a major challenge for financial departments, with reporting constraints in terms of appropriateness and deadlines. The difficulties are due to the diversity of the activities concerned and the decentralised and heterogeneous nature of the information systems.
For existing systems, reconciliation of consolidated reporting data with consolidated accounts, which are mostly of strictly accounting origin, can prove to be complex and time-consuming.
Our expertise
We draw on our experience to assist financial departments in the design and automation of reporting without redesigning the existing information systems.
Our consolidation and BI tools enable integration of your budget forecasts and activity reporting with presentation of actual performance / budget comparisons.
In complex environments, our intervention teams include an information systems engineer.